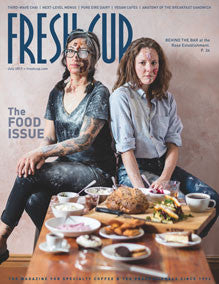 July 2017: The Food Issue
» THE FOOD ISSUE «
NEXT-LEVEL FOOD MENUS: Developing a food menu that works. By Rachel Sandstrom Morrison

BEHIND THE BAR » KITCHEN EDITION: The Rose Establishment in Salt Lake City, Utah.
By Ellie Bradley 

CRUCIAL CLEANING DUTIES: Keep these tips handy, and go forth and clean!
CAFÉ OUTFITTER: Coffee-infused brews for summer.
RETAILER SPOTLIGHT: Joe Bean in Rochester, New York. By Rachel Sandstrom Morrison 
DO YOU KNOW? Pure Eire Dairy in Othello, Washington. By Ellie Bradley
MENUS FOR ALL: Vegan, paleo, and plant-based cafés. By Kerry Politzer
BEFORE YOU BUILD: What you should know about designing prep areas and retail displays.
TOAST: Ten tips for your toast (to try today!).
ANATOMY OF THE BREAKFAST SANDWICH: Breaking down the essentials of the morning standard.
» FEATURE «
CONNECTED TO ORIGIN: Technology's role in a sustainable supply chain. By Kevin Chen, Ph.D. 
» DEPARTMENTS «
IN HOUSE: Giving back with coffee. By Carla Passino
THE WHOLE LEAF: Third-wave chai. by Amy Rothstein

Please allow 2-3 weeks for order processing and shipping, unless you have chosen expedited shipping.