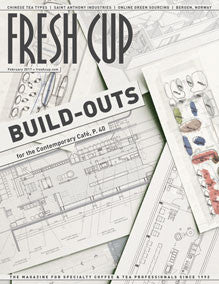 February 2017 - SOLD OUT!
» FEATURES «
SPECIAL SECTION: BUILD-OUTS FOR THE CONTEMPORARY CAFÉ: We take a look at cafés and companies leading the way in forward-thinking design.

DO YOU KNOW KHRISTIAN BOMBECK?: Meet the dreamer behind Saint Anthony Industries' innovative coffee solutions. by Ellie Bradley

CLICK FOR GREEN: THE NEW DIGITAL COFFEE MARKETPLACE: The internet has transformed how coffee is promoted, purchased and consumed—from the farm to the café. by Rachel Northrop

WHAT'S BREWING IN BERGEN: The coffee culture of Norway's second-largest city. by Kaitlin Throgmorton
» DEPARTMENTS «
BEHIND THE BAR: Houndstooth Coffee, Dallas, Texas by Ellie Bradley
CAFÉ OUTFITTER: Spring is in the Cup (of tea) by Chris Lucia
IN HOUSE: Concrete to Brick: Building a Company from the Ground Up-Part Two by Travis Clifton, Justin Hicks, and Ryan Foster

WHOLE LEAF: Chinese Tea 101 by Jeffrey McIntosh

THE WHOLE BEAN: Grinding for Community Grounds by Thomas Hill

NINE BAR: Cultivating Healthy Dissatisfaction by Nathanael May

ORIGIN: Making the Most of Our Partnerships to Origin by Michael Kaiser

CAFÉ CROSSROADS: Torch Coffee Roasters, Seville, Spain by Elizabeth Hotson

Please allow 2-3 weeks for order processing and shipping, unless you have chosen expedited shipping.