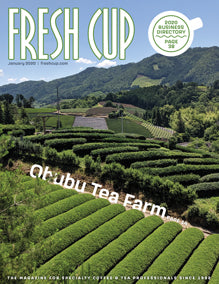 January 2020
FEATURES
The Not-So-New Wave of Barista-Led Activism: Understanding why 2019 was dominated by barista activism—and what's next. By Mark Van Streefkerk
What's New with Cascara? From Starbucks to Shake Shack, cascara has been popping up on menus everywhere, including at specialty coffee shops and teahouses. By Janae Easlon
Georgian Tea Revival: The Caucasus region does not typically come to mind when thinking of tea origin, but the country of Georgia has been producing tea since the early 19th century. By Sarah May Grunwald
Business Directory: Your source for affiliated companies in the specialty coffee and tea industry in one easy-to-navigate guide.
DEPARTMENTS

In House: Café safety & security By Caitlin Peterkin
The Whole Leaf: Obubu Japanese tea master course. By Fallon Keplinger
Café Crawl: Scottsdale, Arizona By Kristine Hansen
THE LAST PLASTIC STRAW: Building a mission-focused team By Robin Roenker
Please allow 2-3 weeks for order processing and shipping unless you have chosen expedited shipping.