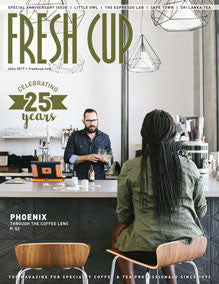 June 2017
» SPECIAL 25th ANNIVERSARY ISSUE «
HOW DID WE GET HERE? A time line of coffee's history

FIRST PUBLISHER'S LETTER: Ward Barbee's first words to the coffee and tea industry 

REFLECTIONS FROM THE INDUSTRY: From first wave to tidal wave.
DO YOU KNOW JAY WELLER? The co-owner of Barista Pro Shop talks about industry growth and change. by Ellie Bradley
INTERVIEW WITH JAN WEIGEL: Fresh Cup's publisher and president 
A DIG THROUGH THE ARCHIVES: Past issues show us how things have—and haven't—changed, and provide a few good laughs.
» OTHER FEATURES «
PHOENIX THROUGH THE COFFEE LENS: Four welcoming cafés in the desert town. by Cheyanne Paredes 
THE CAPE OF GOOD COFFEE: Cape Town has long been one of South Africa's most gorgeous cities. It now has some of the country's best coffee, too. by Nick Dall
SRI LANKA: Celebrating 150 years of Ceylon tea. by Gail Gastelu 
 » DEPARTMENTS «
RE:CO RE:CAP: Highlights from the SCA symposium
BEHIND THE BAR: Little Owl Coffee, Denver, Colorado
CAFÉ OUTFITTER: The big freeze
THE WHOLE LEAF: Green tea inspiration by Kei Nishida

ORIGIN: Narrowing the technology gap by Tim Heinze
CAFÉ CROSSROADS: The Espresso Lab, Dubai, United Arab Emirates by Ellie Bradley

Please allow 2-3 weeks for order processing and shipping, unless you have chosen expedited shipping.