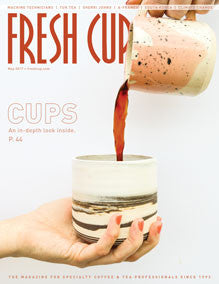 May 2017
» FEATURES «
DO YOU KNOW SHERRI JOHNS? Director of training at Alliance for Coffee Excellence and a head judge for Cup of Excellence. by Ellie Bradley

SPECIAL CUPS SECTION: From ceramic mugs to fully recyclable to-go cups, this month's special section takes a deep dive into the world of drinking vessels. 

HERE'S YOUR SIGN: Ten tips to make curbside advertising work for you.
by Rachel Sandstrom Morrison
THE ROAD TO COFFEE THROUGH SOUTH KOREA: Design-forward cafés and locally roasted coffee are popping up all along the peninsula. by Josh Doyle
THE CLIMATE CHALLENGE: What Haiti reveals about the adaptation challenges facing the global coffee sector. by Tate Watkins
» DEPARTMENTS «
BEHIND THE BAR: Beansmith Coffee Roasters, Omaha, Nebraska 
CAFÉ OUTFITTER: Everyone gets a strawberry!
IN HOUSE: Who you gonna call? Hiring an equipment technician by S. Michal Bennett

THE WHOLE LEAF: Tea truck travelers by Beverly Fortner

NINE BAR: The challenge of patience by Nathanael May

ORIGIN: A worthy starting point by David Planer
CAFÉ CROSSROADS: The Dock Coffee, Spooner, Wisconsin by Kay Vandette

Please allow 2-3 weeks for order processing and shipping, unless you have chosen expedited shipping.